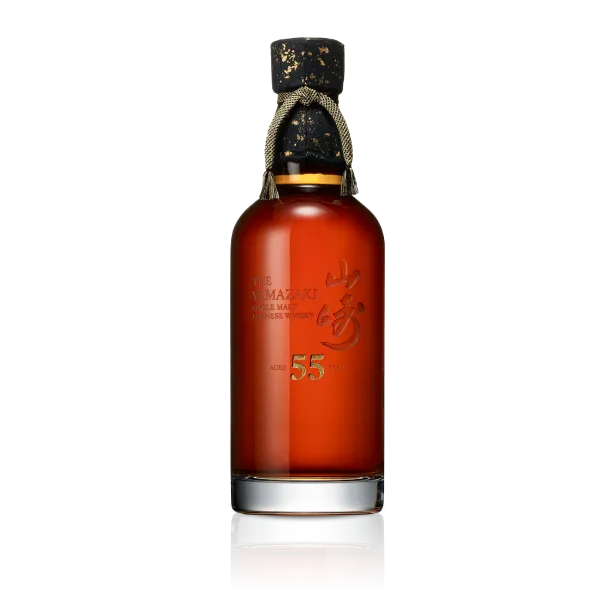 Whisky
Yamazaki 55 Years Old
In its much anticipated first release of Yamazaki 55 Years Old, the House of Suntory pays tribute to the passage of time. Master Blender Keizo Saji was charged to bring his father's dream to life, creating not only the quality liquid gold but a quintessentially Japanese experience and lifestyle that rooted Suntory Whisky within Japanese culture.
Yamazaki 55 is a blend of precious single malts featuring components distilled in 1960 under the supervision of Suntory's founder Shinjiro Torii and then aged in Mizunara casks; and in 1964 under Suntory's Second Master Blender Keizo Saji and then aged in White Oak casks. Suntory's Fifth-Generation Chief Blender Shinji Fukuyo worked closely with Third-Generation Master Blender Shingo Torii in deploying their signature art of blending to properly reveal the exceptional depth, complexity and wisdom that is Yamazaki 55. The resulting expression features a deep amber color; robust aroma redolent of sandal wood and well-ripened fruit; sweet, slightly bitter and woody palate; and slightly bitter yet sweet and rich finish.
Tasting Notes
Color
Deep amber distinctive of Mizunara casks.
Nose
A robust aroma redolent of sandal wood. A sweet, mature bouquet like well-ripened fruit.
Palate
A soft, smooth first sip that blossoms in the mouth with flavor. A mixture of sweet and slightly bitter, followed by a woody note from the Mizunara cask.
Finish
Slightly bitter, a fragrance like scented wood and a hint of smokiness. A sweet, rich, lingering finish.